we welcome a new challenge!
HIMCR #207 - Super Scraps Saturday!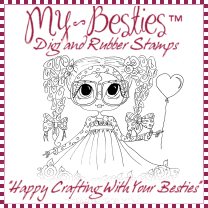 The DT were given some images to 'play' with,
here is what I came up with:
I challenged myself this week to use
papers that I wouldn't normally use,
along with embellishments.
The papers are from Prima Julie Nutting's line,
and the feather is from Bella Blvd.
The sentiment is from a swap, so
I am unsure of what brand.
The image was colored with
That is it for me for today!